[NOW-???] SHIPPING DELAY NOTICE!
Hi Gang! We've started moving, and there will temporarily be a delay for processing orders with resin dolls of between 1-2 days. Orders without resin dolls are currently not affected.
Thank you and sorry for the inconvenience in advance!
[11.10.2017-11.25.2017] MYOU SALE!
MYou's 2nd Anniversary Event, 15% off all in-stock MYou dolls!

[09.05.2017] MYOU SHIPMENT!
Restocks today on previously sold out models! 27cm BiXuan, 30cm DouDou and Lorina, 40cm Nianer, Matcha, and Mousee! 45cm Delia, Arthur, Bohe, Vera, Ailsa, and Zimo! 60cm Carl and Grace!

[07.03.2017] BOBOBIE SHIPMENT!
In today! 27cm Autumn Deer, March, Isabella, and Pixiu! 40cm Lan! 45cm Jian! 60cm Apollo, Mu, and Gang! 65cm Ling!

[05.28.2017] FALL IN DOLL 30CM FORCE AND RABI 30CM DOLLS ARE BACK IN LIGHT GREY!
Don't ask us how, it took quite a bit of wrangling for us to get these manufactured again...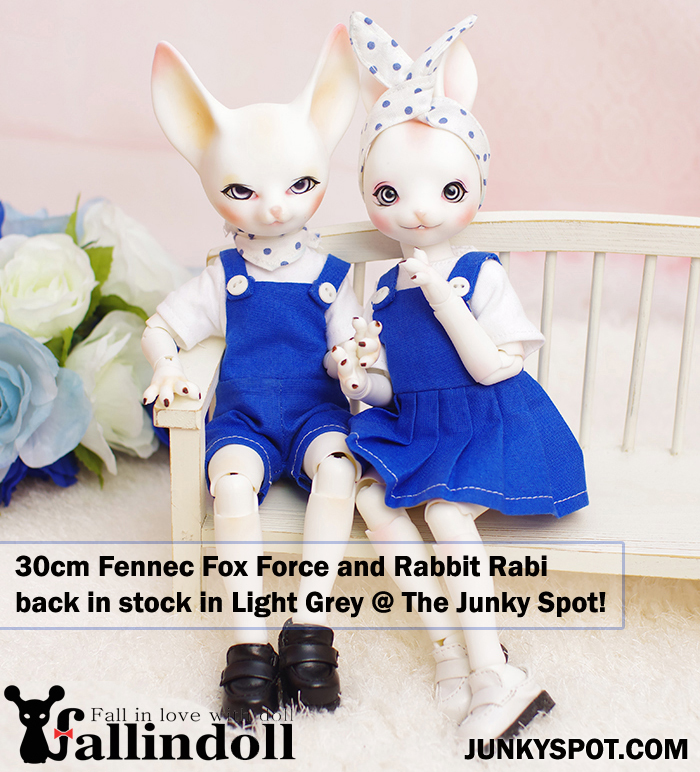 [05.21.2017] OBITSU 24CM BODIES ARE IN STOCK!
Obitsu's latest line!

[05.16.2017] HUJOO 24CM FREYA BACK IN STOCK IN WHITE!
Finally back in stock is Hujoo's 24cm Freya in White, designed right here at The Junky Spot!

[04.23.2017] LATECOMERS TO THE PARTY!
Previously sold out MYou 45cm dolls Ailsa and Wind have made it back into stock today!




Also restocked some Mystic Kids clothing sets and some Mystic Kids wigs as well!
[04.20.2017] MYSTIC KIDS SHIPMENT!
NEW models today: 44cm Nicole and 45cm Oscar! Also now on the new 3-part bodies: Ophelia, Natalia, Francis, Francis SP, Evelyn, and Gene! Also restocks on 60cm Alina, Ellis, Lawrence, and Miri! Restocks on 27cm Nelly, Melody girl, Melody Boy, Hugo, and Christina!

[04.18.2017] MYOU SHIPMENT!
NEW models that have arrived today: 30cm DouDou Girl, 30cm DouDou Boy, 42cm Pear Shaped Loretta, Matcha, and Mousee! RESTOCKED previously sold out models: 30cm Lorina and Loretta, 40cm Big Baby Loretta, 45cm Bella, Bohe, and Delia!